DIY Wedding Flowers
DIY Wedding Flowers, make your own arrangement for your wedding. First of all you need to know the style of the wedding that you are organizing. Is it a classic wedding, rustic wedding, modern wedding, vintage wedding, etc.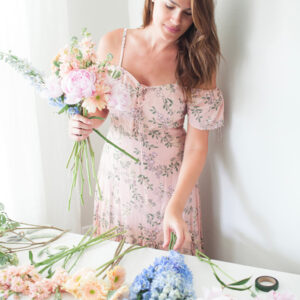 Afterwards you need to know if there are certain colors that the bride or groom will rather have at their wedding. If you want to go for a classic wedding, white roses with gypsophila are the answer.  The variety Vendela is one of the most popular rose in weddings. These Wedding Flowers are just perfect. The Vendela rose has a champagne ivory color with a hint of pink on the petal edges that will attract the attention of its audience. Another great option is the Polar Star rose, this rose is a true white rose. Great filler for white roses, Baby's breath is a prefect option. With Baby's Breath you can make beautiful flowers crowns that will give an angelical touch to the ceremony.If the bridal couple is looking for a more rustic wedding grey colors is a great choice. Mix Salt and Pepper Baby's Breath with some light pink roses. Like the Nena variety is a gorgeous pink rose, will make you think of ballet slippers. Or the Senorita rose is a creamy and pink rose with greenish exterior petals and warm soft pink interior.If you want to go for a more Modern Wedding, yellow flowers is the answer, you can mix them with some strong colors like our black tinted roses of our offer at Magnaflor or with some bi-colors like the variety Hot Merengue.
Or just go for a Vintage Wedding, mix some pink or creams roses with baby's breath.  Another great option is also the Mondial rose is a rose of the most famous among white roses. Perfect wedding roses, Gorgeous and crispy.
Credit: Mkt