Differences between traditional roses and spray roses
The floral world consists of an immense variety of species, each of them with a complex structure and despite the fact that certain varieties belong to the same family, they always have singularities that make everyone fall in love, because there is something for everyone!
This is exactly what happens in the case of roses, so we have; individual roses, spray roses and shrub roses. Today we will know some characteristics and differences between the traditional rose variety and the spray rose variety that we already knew in depth. So we could see that spray roses have a very particular and sophisticated beauty.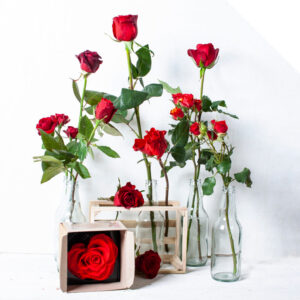 Structure
All varieties of rose bushes produce main stems or peduncles. For example, in a rose bush that produces only one flower, this peduncle becomes a rose bud. In the case of the peduncles of spray roses these form multiple pedicels or smaller stems. Each pedicel produces a single flower. Spray roses can be individual, with four to eight petals; semi-double, from 12 to 25 petals; or doubles, from 25 to 45 petals.
Thus they create a set of smaller flowers and it is the favorite variety of roses in the gourmet sector known as sweet or edible roses. Also, spray roses can be grown in a pot and are usually labeled as miniature roses.
Traditional roses consist of long and robust stems of a single flower, they are usually the preferred variety for bouquets during Valentine's season. On the contrary, the stem of the spray roses or garden roses is a bit more fragile and short given its growth from a single stem. The stem lengths vary, in the case of traditional roses, the length ranges from 40cm to 120cm, while the miniature spray roses are available from 40 to 60cm.
Although a spray rose bush will not provide long-stemmed roses, depending on your decorative plans, spray roses or traditional roses blend perfectly to create amazing and sophisticated arrangements that will give a unique nuance to your event.

Size
Spray roses have some physical characteristics similar to traditional roses, but they differ in size because they are much smaller since they can reach less than 2 inches wide and usually grow in clusters of 5-7 flowers per stem and are typically smaller than flowers grown in other types of rose bushes, but not always.
As we mentioned spray roses usually have smaller flowers than other roses, because the flowers are very close together, a single group of these roses resembles a small and lush bouquet.
In Magnaflor our clients love these flowers and often know them as miniature roses or love roses.
Flowering Type
Like other roses, spray roses can be single, double or semi double. Simple flowers have a layer of four to eight petals, while semi-doubles have between eight and 25 petals. Double flowers can have up to 45 petals. Spray roses often contain roses at various stages of maturity, from tight buds to fully open flowers.
As for the color of the flower is similar to other roses, colors from white, pink to deep red as well as ranges of yellows, oranges, lilacs, etc. Something characteristic is that not all are typically scented.
Applications
We already know that spray roses are a miniature version of the common rose that we know and also for that reason the use is very special, an important detail that we must take is that these small roses are not usually used to design bouquets of fresh flowers, this for its size and short stems.
They make up most of the small bouquets, wrist corsages, centerpieces and other small-scale arrangements, spray roses is the ideal option, its foliage creates an attractive background for vibrantly toned flowers. They are also ideal for small floral arrangements where larger roses are usually dominant. For example, bouquets of classic roses require roses with relatively long and robust stems.
Do not forget to combine the spray roses with other varieties of flowers and greens in larger bouquets to achieve a thick and lush appearance. For the bouquets, cut the roses on the main stem to get the length you need, keeping the structure.
Know them and fall in love with them, you will surely want to use them on all occasions and your creativity will not stop creating unique scenarios and events full of romance and sweetness.
Considerations
Now We know the differences that stand out the most between classic roses and spray roses are their smaller size and delicate nature, apart from these there are no differences that completely separate them. Even the colors of each of them are similar as well as their meanings.
As for prices, spray roses are a little more expensive than standard roses, this is because of their large-scale hybridization culture.
If you are a florist we tell you that this variety is very desirable commercially speaking, it is not that the classic roses are not, but their difference is that the latter are less productive and more difficult to maintain and survive in domestic environments and when they are cut main stem
Spray roses have been imposed on the market very firmly and each year their production and trade increases as they are very popular with commercial growers and home gardeners, as they offer rapid growth and constant flowering.
A detail that growers like is its flowering because apart from its abundance, the flowers usually appear in several stages of maturity, from tight buds to fully open flowers. If you dare to grow them you can do it in a garden bed or simply in a pot providing your home with a natural detail that you love.
Now, Would you give that special person the spray rose as a gifts?
The options range from an attractive pot if the person you are going to give to them wants to keep them in small apartments giving a natural touch by having the same beauty and fragrance of traditional roses or transplanting them to the ground in many environments.
Dare to make a bouquet yourself, spray roses as we already mentioned, are an amazing way to give the floral arrangement a thicker appearance when combined with a few classic roses. You can see the flowers in their different stages of growth, from a bud to a smaller flower and full of flowers. These can be semi-blooms, double blooms or full blooms.
In Magnaflor we are absolutely sure that once you have them in your hands, you will not want to give them to anyone … they are extremely adorable, so be prepared to make a new order of spray roses.
Credit: Vivian Bermeo