Valentine's Day is a time for honoring the person who you love the most.
Flowers, particularly roses and chocolates, never fail to impress and are a great way to show the loved one in your life that you care about them. But this Valentine's Day boost your brain by purchasing wholesale roses that come with a free "Do-It-Yourself Bouquet Kit" from Magnaflor!A DIY project can be an expression of almost anything, but it is always an expression of its creator. When you make something yourself you are putting your heart, soul and ingenuity into the project. Not only does this make the gift extra special, but it helps improve your well-being by boosting your creativity, confidence and congeniality.1. CreativityWhenever you are creating something using raw materials you are exercising your brain. We spend so much time receiving messages to the brain with our smartphones and TVs, making a DIY Bouquet will give you a quick moment to send a message out into the world. Boost your brain to keep you young and fresh!2. ConfidenceSucceeding in creating something that was seen as a challenge is a great way to build confidence in yourself and a way to project confidence to colleagues, lovers and friends. If you have ever completed a task that you once thought was impossible then you know there is no better feeling!3. CongenialityCreating something from your own hands with the purpose of enriching and bringing joy to others is a valuable quality. It is more than just being friendly, you project a genuine warmth for the one who is the center of your ultimate affection. It feels good to do good and to take the extra time to make others feel good.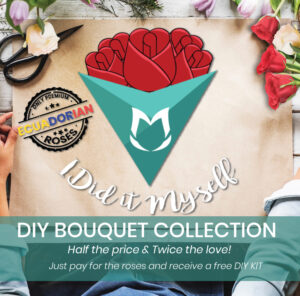 Nobody will feel more loved on Valentine's Day than your loved ones who receive a DIY Bouquet from Magnaflor.com! Order a DIY Bouquet (starting at only $39.99 + free shipping) of wholesale bulk premium Ecuadorian roses for VDay 2019 today and boost your well-being and love life!
Reference:https://www.amfam.com/resources/articles/support-for-your-dream/why-diy-5-reasons-to-tackle-that-project
Credits: Austin Stewart