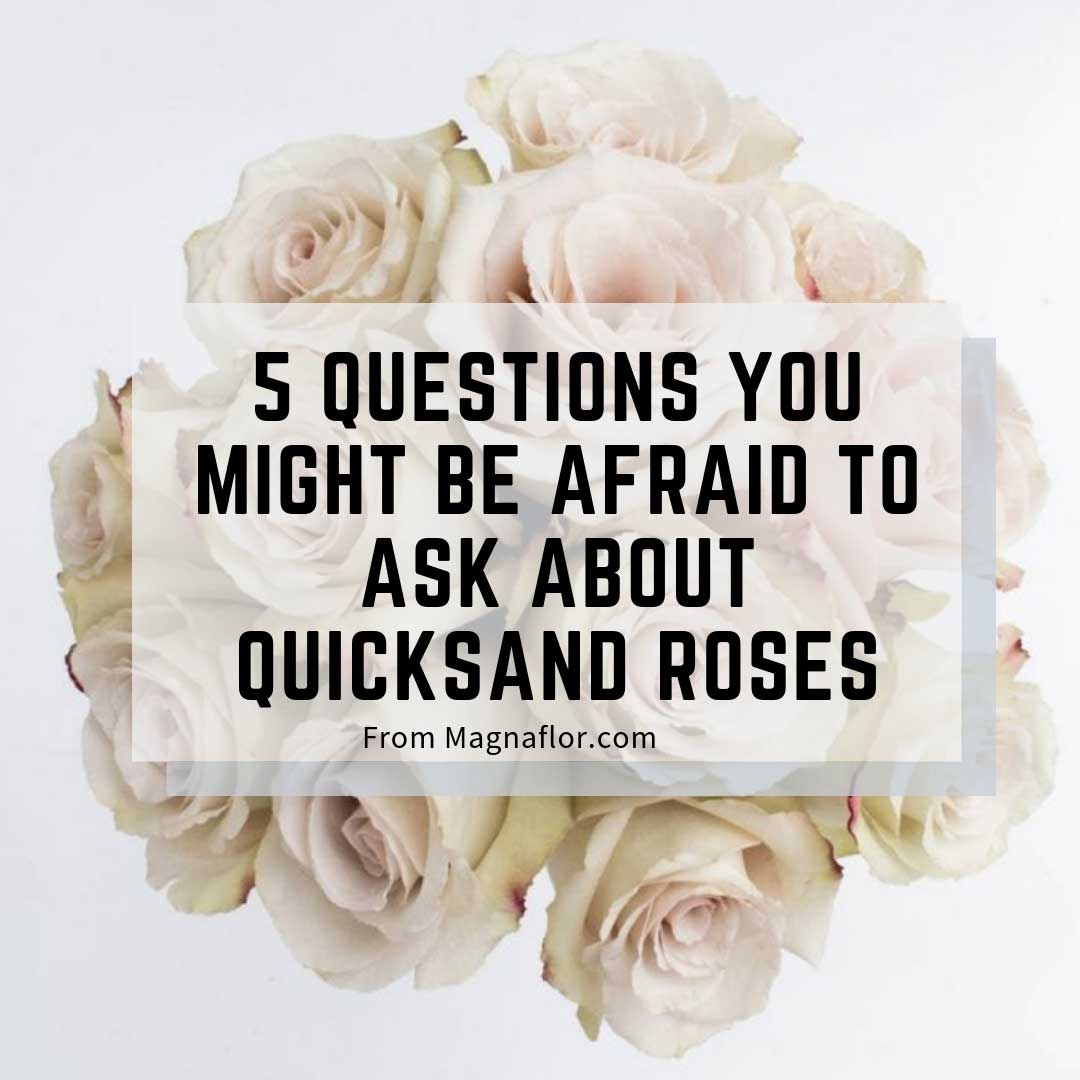 5 Questions You Might Be Afraid to Ask About Quicksand Roses
Do you love Quicksand Roses? Are you interested in using them to decorate with? Or do you find yourself still a little bit confused about what they are and how you can use them in your home or at your big events? Quicksand roses may be a little different than some of the other roses you encounter when shopping for flowers. Although this may make them a little intimidating to some people, it really just means there's more to learn about them! If you're still asking questions but aren't sure where to look for answers, check out the information below to help you get a better understanding of just what these roses are.
Is there any color besides beige on a Quicksand Rose?
In short—yes! There are other colors on Quicksand Roses, although those colors usually fall into the pink or light purple category. These roses are usually beige all over with a little tint of pink throughout, but they may also have pink or purple "trim" on the edges of their petals, too. Depending on the quality of the Quicksand Rose you purchase as well as how long it's in transit before it reaches you, they may arrive more beige and then show their true colors after they've been in water for a day or two.
Don't forget that you can incorporate beige roses into arrangements with other colors if you're looking for something to give your flowers a pop, too. Beige may not seem like the ideal color choice for a rose, but you may be surprised at just how nicely it can blend in or complement other colors!
Isn't it boring to decorate with mostly brown flowers?
Absolutely not! There are many different uses for flowers that fall into the brown category, and since Quicksand Roses do include a little pink, they can be used in even more exciting and fun ways. One of the best uses for quicksand roses is in an arrangement or bouquet with other pink or blush rose color options. You may want to use carnations, other roses, or even something simple like baby's breath to round out your floral arrangement when you go with Quicksand Roses as the star of the show. And don't forget to dress up or down the bouquet itself with ribbons, lace, and anything else that works well as part of the ensemble!
Do Quicksand Roses last as long as other types of roses?
Yes! Quicksand roses may look fragile and delicate, but this doesn't mean they're any less long-lasting than other traditional colors of roses. As long as you purchase your flowers from a reputable vendor for bulk flowers online, you're sure to get high-quality Quicksand Roses that will hold up to just as much use and give you as much color as any other type of rose. You can expect to get anywhere from 7 to 14 days of use out of your Quicksand Roses, depending on where and how you use them, how well they are cared for after arrival, and the climate where you live. Be sure to follow the instructions that come with your order and keep up with your roses the same way you would with any other color or variation.
Can you really use Quicksand Roses in a wedding?
You can use Quicksand Roses in weddings and in almost any other setting, too. If you're looking for a great flower choice for your wedding, you may not think twice about a beige flower initially. However, there are actually a lot of ways this color and type of flower can be used successfully to create an elegant and beautiful wedding arrangement you'll want to remember for a long time to come.
First of all, consider using quicksand roses as the star of your wedding floral arrangements if you're having an outdoor, country-themed, or rustic wedding. These flowers look incredible in any of these situations, and many rustic weddings have used quicksand roses without needing to use any other flowers at all. A simple bouquet of long-stemmed beige roses can go a long way when you're trying to put together this type of wedding setting. This style may not be ideal for everyone, but if it sounds right for you, be sure to consider this rose variation to suit your décor needs.
You can also use Quicksand Roses in more formal or traditional weddings, even including those held indoors or at night. Use them in place of white garden roses for a warmer touch that is especially nice for autumn weddings. Pair them with a touch of black or darker colors like maroon, burgundy, or romantic red for a twist on the classic that's sure to turn heads.
Are Quicksand Roses a good idea for a romantic flower?
Yes they are! It's all about how you use them. Roses are always romantic, no matter what type or color you go with. If you're looking for a flower you can use to surprise your partner, why not try a big bouquet of gorgeous blush-colored blooms? Quicksand Roses can indicate a sense of gentle, soft romance that, while not as dramatic as red roses, is nevertheless very elegant. They are especially ideal when you're in a new relationship or wanting to rekindle some romance, too. However, no matter where your relationship stands, there's no reason why you can't say what you want in the language of flowers with Quicksand Roses.
Do you feel a little bit more educated and informed about Quicksand Roses now? Even if you've never wanted to speak up and ask the questions listed above before, you're sure to have plenty of information to help you decide whether or not these flowers are right for you now that you've checked out our information. Remember that Quicksand Roses may not be for everyone, but they do have their place in many different events and even in home decorations, too. Take your time considering the right roses or other flowers for your needs, but don't forget to think about the Quicksand Rose, too!