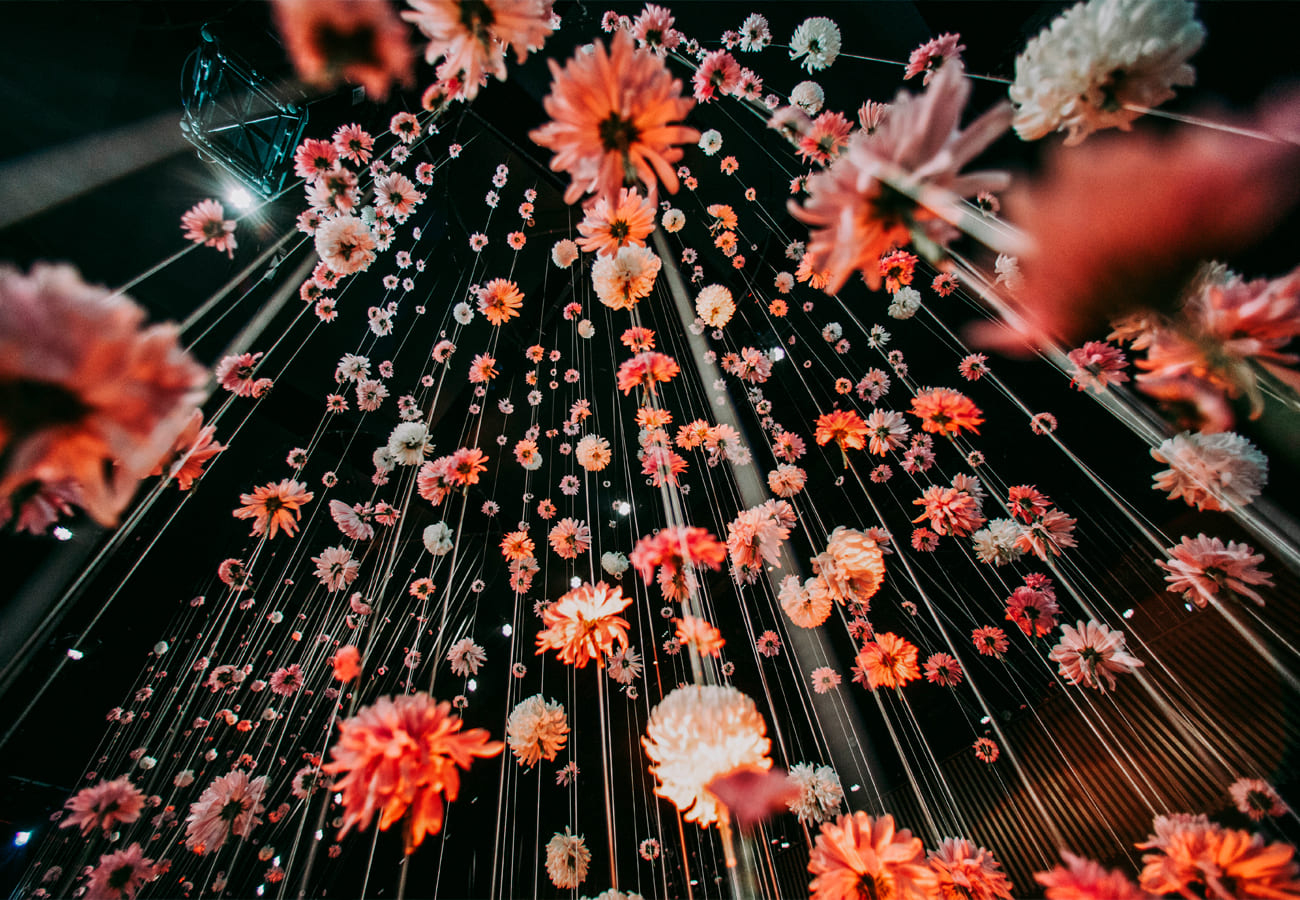 Woooow … It's time to experience something new, centers and hanging flowers.
Finding the right design for your wedding day is not always easy. Although great ideas are not missing, it can be difficult to know which of them really work together. One thing is for sure: You want to avoid busy and messy decorations that will leave your guests overwhelmed.
Every year wedding trends change or renew, but you will love it for versatility, elegance, and originality. Get the idea out of the head that flowers should only go on tables or at ground level, the new is in the heights … that's right, your flower arrangements will now be hanging.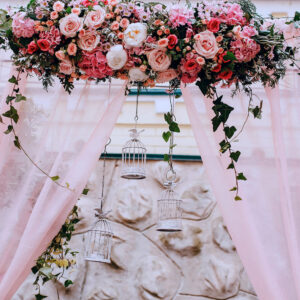 What kind of hanging decoration can you consider for your big day? The options are virtually unlimited, but we especially like aerial lighting, flowers, ceremony canopies and chandeliers. And if all those options sound tempting to you, don't be afraid to mix and match between them.
A great advantage is that this trend is very versatile, the options are endless and only depends on your imagination and good taste to give that touch of originality and charm to your wedding.
Magical and most natural this suspended wedding decoration for interiors with the protagonist green can be combined with hanging candle containers and / or micro lights, hanging shelves, giving it a rain effect, in circular crowns, there are many options and the result comes in a spectacular environment.
As you know, nature is undoubtedly the best ally to decorate and to transform any space into a perfect setting, you can opt for arrangements composed only with greens in different shades or with flowers, can be used on the tables, occupying the length of it if it is an elongated table, in a circle for round tables, and to give a decorative touch for the buffet tables, in addition to being beautiful it is perfect not to overload the tables.
The possibilities adapt perfectly to the style of the event and tastes of the client. Classic, vintage, tropical, sophisticated, romantic, or full of color …
In short, it is an ideal trend to decorate minimalist spaces or brighten up places where flowers become the protagonists of decoration. Outdoors and in places with very high ceilings it helps us to create a cozy atmosphere.
You can also combine the centerpieces with hanging arrangements for a striking and abundant decoration.
As we mentioned the crowns and flower curtains are an excellent option for this type of decoration. Being a colorful ornament that occupies large space, you have to be careful with the shape and the place to put them so that it does not look too ornate. Crowns can be decorated with a lot of green or with other small branches hanging from them.
Finally, if you have the impression that there are many flowers, they can be mixed with green leaves or more yellow tones to slightly lower the intensity of the flowers or you can use the hanging flowers for corners, for the photobooth, for the place where you will have the reminders, in bird cages, candlesticks or showers to make a different decoration.
Another very easy option to make yourself is to use tapes. They can be multicolored or unicolor, or you can play with the colors of the flowers themselves. As for the length they can also vary to give more originality and an air like nature.
So, if your venue allows it, play on high ceilings, decorate its magnificent white tent or highlight the open skies at an outdoor party. Whatever type of wedding you have, and no matter what your venue looks like, the hanging decoration will surely surprise you.
Credit: Vivian Bermeo